Ek Tara is proud to present to you Tara: our very special mascot who is the champion for girls' education! Tara represents millions of girls in India who come from low-income homes and miss out on basic education and development opportunities. Through a series of conversations and publications, Tara aims to reach out to such children across the country and the world to educate them on issues which directly impact their wellbeing.
These resources are free, downloadable links are available below.
We would like to thank Ms. Falguni Gokhale for giving shape to Tara!
Making a world of difference
We would like to thank Ms. Falguni Gokhale for giving shape to Tara!
Tara continues to be a mascot through her second publication on climate change, which is catered to low-income, first-generation school goers. Our climate change campaign culminated in the launch of our book, "Making a World of Difference" which looks at the environmental issues in a holistic and contextual manner and tackles issues arising from the same. This campaign was aligned with UN SDG 13.
So far 80,000 copies have been sent to partner schools and organizations in Hindi, English, Marathi and Bengali across India to raise awareness and to take action.
Tara's came into being as the main character in our Covid-19 childrens' book, which has reached 40,000 children by working with 75 partners across India. At a time when information about the pandemic was convoluted and sometimes hard to come-by, Stay Safe, Stay Strong provided clear information and hope to young learners.
Latest Happenings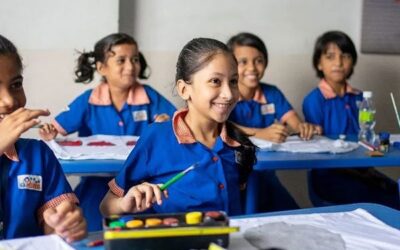 AquaTerra is working with a group of students from our primary section- building on their communication skills as well as environmental…
read more