Our Stars
These young girls are the beacons for the community
Saba Parveen
Saba has been with Ek Tara since 2011 and is one of our oldest students. She lives with her parents and two younger siblings who also study at Ek Tara. They live in a 100 sq ft room which doubles up as a bedroom , a small kitchen and toilet. Her father is a slipper maker and her mother is a housewife.
Saba is a very sincere and focused child and excels in anything she puts her mind to. She is an active participant in class and eagerly takes part in extracurricular activities and events. This determination has led her to perform very well in her studies. Her favorite subjects are Geography, English and Math. She is skilled at drawing and loves dancing too. Right now, Saba is in Deshbandhu College pursuing B.Com Honors in Accountancy.
---
Naheda Ali
Naheda has been with Ek Tara for seven years and is an inspiration to other young girls. She is one of our first students to have completed her graduation in B. Com honors from one of Kolkata's most prestigious colleges, Shri Shikshayatan. Naheda completed her schooling from Khalsa High School.
She is currently pursuing CA from The Institute of Chartered Accountants of India.
Naheda lives with her parents and an older brother in a one room flat, sharing a toilet with four other families. Her father runs a small tea stall near Ek Tara's Community Center and is the only family member to earn an income of about 6000 Indian rupees (77 US dollars) per month. Naheda's brother is also enrolled in college to pursue B.Com.
As one of our brightest students, Naheda makes us extremely proud with her consistency and drive to succeed. Her other interests include painting and singing. Naheda also supports the Ek Tara community. She was trained as a street educator for our mobile school project – CPK and performs her role diligently.
---
Rukaiya
Rukaiya grew up in a poor family in a small village in Bihar. When she was in class four she was forced to drop out of school in order to help her mother with household chores. Her parents married Rukaiya off at the age of 15, and she found herself living in a teeming slum in Kolkata. Nothing in her rural home prepared her for the challenges of urban squalor: lack of space, lack of access to regular water supply, and high cost of staple foods. Her husband earned an irregular income from working as a semi-skilled artisan in a small shoe factory.
Rukaiya soon realized that it was up to her to get a job to augment the scarce resources of the household; and, very importantly, find a school for her daughter so that she could get the opportunity to complete her education unlike her mother.
Rukaiya enrolled her daughter Sumaiya into Ek Tara's Montessori program and the little girl has blossomed in the happy environment. She studied at Ek Tara for a year and then joined the Modern High School for Girls in 2015 where, right from the start, she excelled in her class.
Rukaiya learns from her daughter. And she, in turn, instills her daughter with confidence and self-belief so that Sumaiya never feels less than equal to her schoolmates who come from far more privileged backgrounds. For us at Ek Tara, Rukaiya's determination to make the most of every opportunity and turn her life around is an inspiration.
---
Mahinoor
Amid an environment of protracted poverty and obstacles, Mahenoor's story epitomizes hope and resilience.
Throughout her schooling, she could have given up in the face of several challenges, including her low socioeconomic status, pressure for her to marry and remain at home, and access to educational institutions. But Mahenoor responded with resilience. She aspires to become a chartered accountant, and is working hard to realize her dream. We were introduced to Mahenoor in 2006 when she was just six years old. With no formal education or experience of attending school, she had to start from scratch.
A year later, Mahenoor was enrolled in Jyotirmoy Public School where she studied till grade five, and was then enrolled at Indira Academy. She took her board examination through the same school and fared extremely well. This was one of the most important milestones in her life because she was the first person from her family to have reached that level of schooling. Her older siblings had to drop out given financial constraints as she was growing up.
Following that, Mahenoor was enrolled at Khalsa High English School. And she excelled again, ultimately achieving 84% on her examination which was a tremendous feat. Her academic credentials resulted in her admission to B.Com at the prestigious AJC College. At present, she is in her fifth semester, doing what she does best - hard work and lots of hard work!
Utilizing a system designed to upskill and empower women, Mahenoor partially finances her studies with employment provided by Ek Tara. She is currently the sole breadwinner due to her father's passing, and has to deal with food insecurities in addition to managing household chores.
Latest Happenings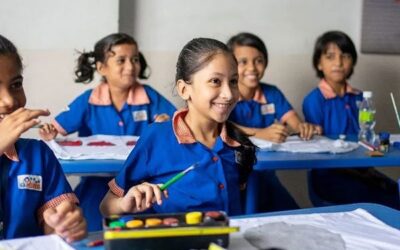 AquaTerra is working with a group of students from our primary section- building on their communication skills as well as environmental…
read more