Tomorrowland Foundation Music and Arts School (TLFMAS)
The School
The School
The school is the second of its kind in the world with the other one in Nepal. This 7000 sq. ft. school which saw its official opening on 2 December 2022, offers classes in Art & Craft, Dance, DJ & Electronic Music, Photography, Music and Theatre to underprivileged children living in and around Topsia, Kolkata. The school, housed in the Ek Tara Learning Centre, boasts of a terrace performance space and other amenities for children to showcase their learning in front of an audience. The Music and Arts School aims to enroll over 1000 children in the course of the first academic year while extending the facilities to children beyond Ek Tara.
Open the world of arts to children from marginalised communities
Facilitate in the process of arts education
Encourage holistic development of children by including arts practice and classes in the curriculum
Enable the children to make career decisions based on arts
The dream is to build the school as a place of arts education for the marginalised communities as well as a performance hub in Kolkata.
Latest Happenings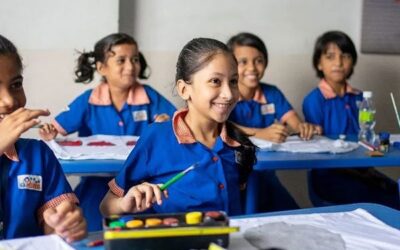 AquaTerra is working with a group of students from our primary section- building on their communication skills as well as environmental…
read more