This project is in partnership with Belgian organization – The Mobile School. The initiative aims to provide quality learning resources at the primary level using an extendable six-meter-long, two-sided blackboard on wheels. The interactive learning experience includes 360 panels on various subjects to promote skills-building and empowerment for young school goers. The project seeks out street and slum children in their own environment and creates positive meeting places where the child is unconditionally accepted and respected. The street workers visit the children to listen to them, build up a trusting relationship and offer opportunities to develop a positive self-image.
Chakke Pe Kaksha currently reaches 600 students.
KMC Model School
Ek Tara has partnered with the Kolkata Municipal Education Department to enable conversion of one of it;s primary schools into a model school. Under this project, Ek Tara is working closely with school and government authorities to focus on enabling overall development of children with access to co – curricular activities , digital learning, foundational numeracy and literacy in addition to change in infrastructure enabling an improved learning environment for kids.
Latest Happenings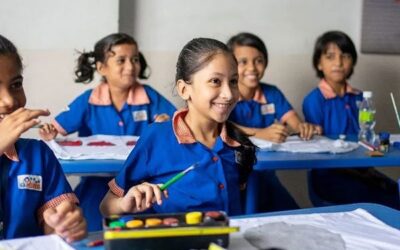 AquaTerra is working with a group of students from our primary section- building on their communication skills as well as environmental…
read more